The alternative meat industry is starting to gain some serious traction with the unlikely help of COVID19. Cattle farming for the meat industry is a water intensive process. It takes roughly 1,700 gallons (7,700 litres) of water to produce one pound of beef for the table. By contrast, a pound of soya beans has a water requirement of 280 gallons. It's worth pointing out however that much of the water requirement for beef is made up from natural rainfall so the figures are not as shocking as they may first appear. Nonetheless, it could reasonably be argued that it's more efficient to produce soya as a source of protein for human consumption than beef.
The world's population continues to grow with estimates indicating that global population will increase to 9.7 billion people by 2050 (up from 7.7 billion today).
With this increase in population comes a trend of increasing urbanisation and wealth. The United Nations estimates that, coupled with the increase in total population, the percentage of people living in urban settings will increase from 55% today to 68% by 2050). 
Wealthy urban populations consume more meat.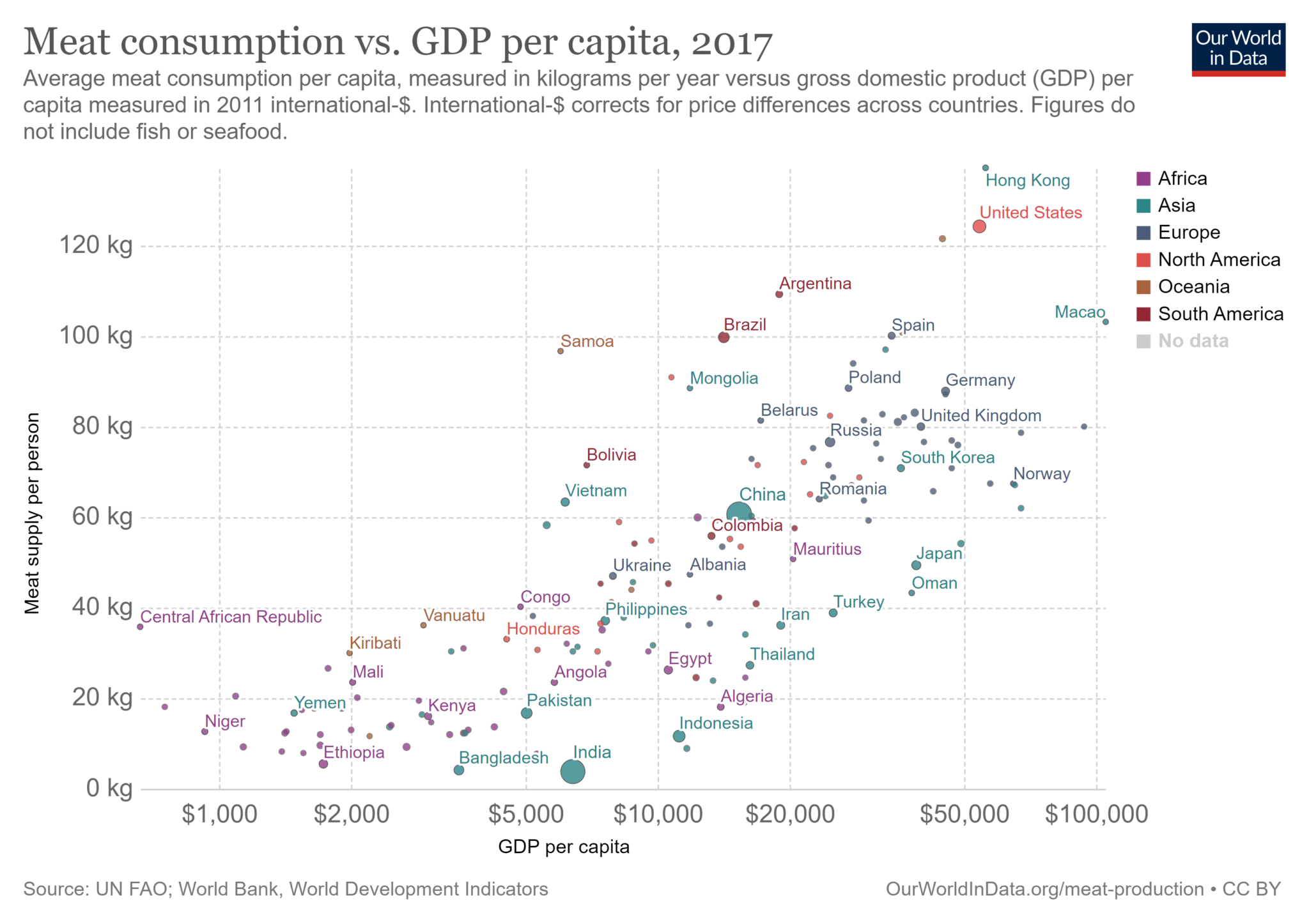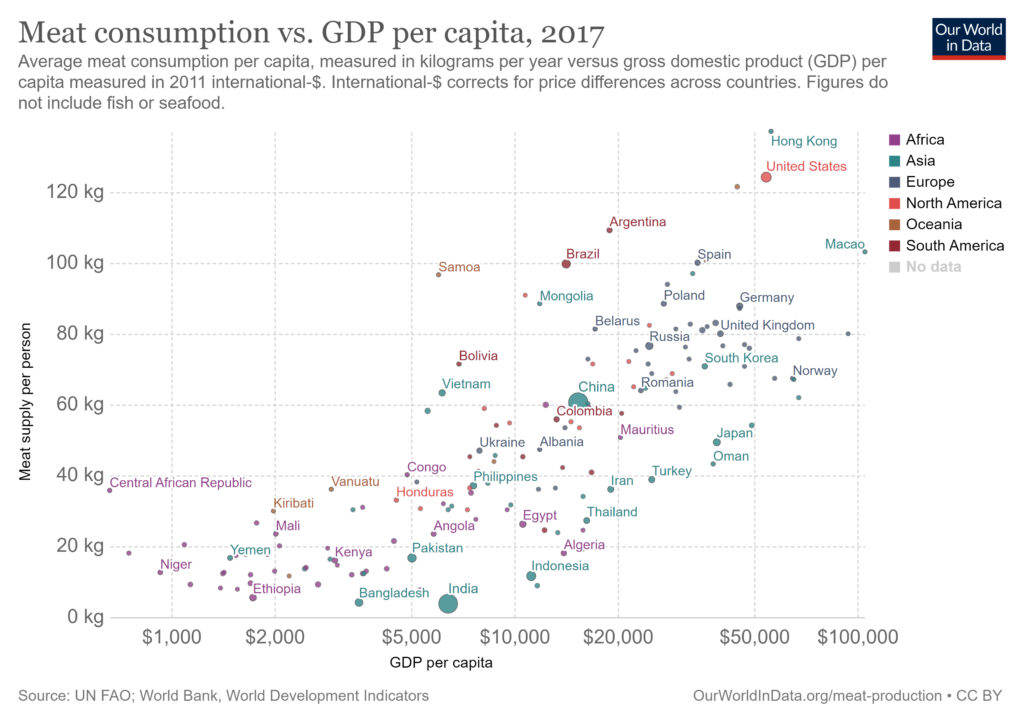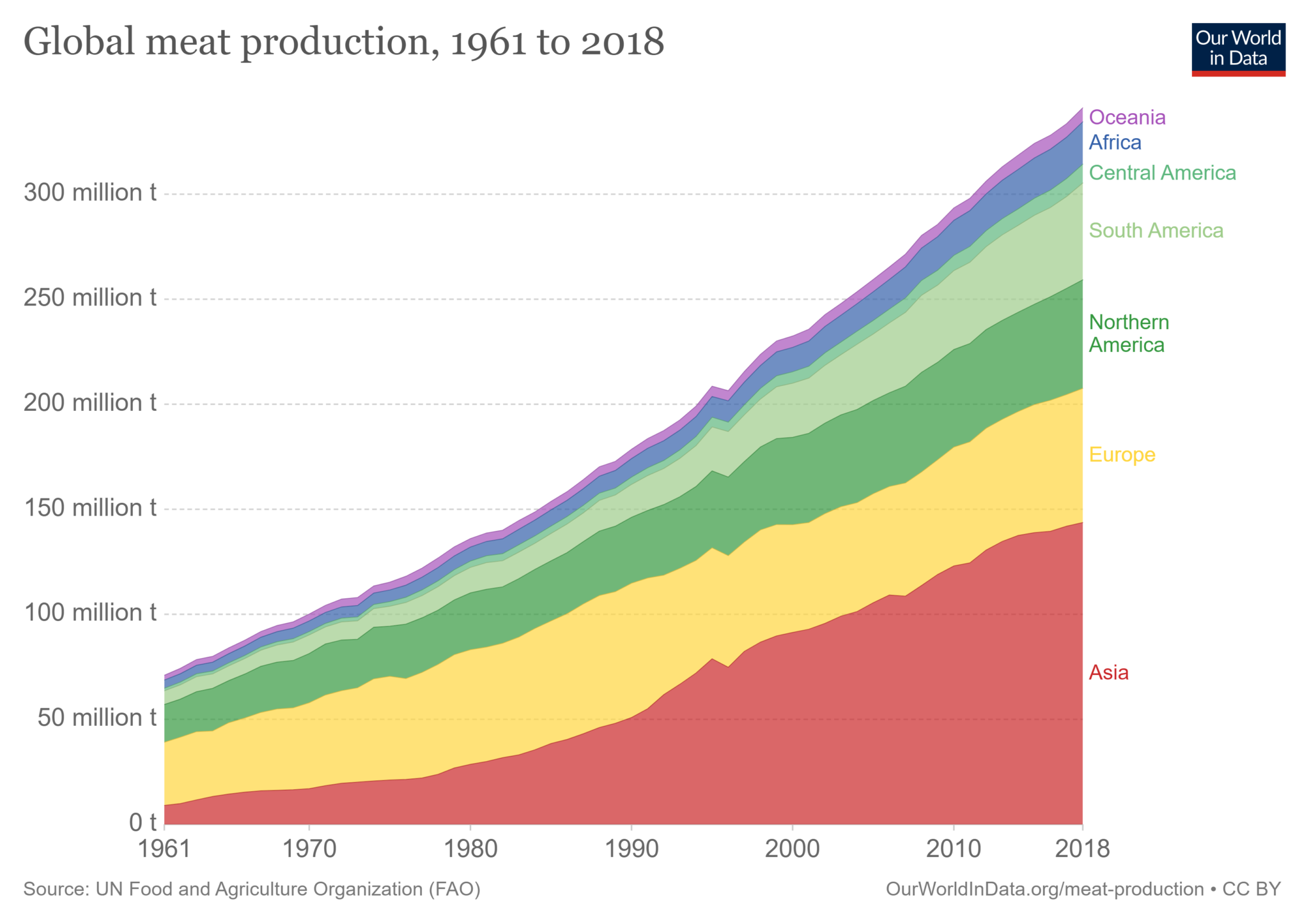 To meet this increasing demand, global meat production has been steadily increasing since the early 1960's. 
The image on the left illustrates this phenomenon. 

Obviously this is not something that can continue indefinitely.
Enter the alternative meat / protein industry
Much work has been going on in the Agtech sector as they look for ways to improve farming methods, increase yields and reduce negative environmental impacts. One such area is the production and development of plant based meat products
The 2020 COVID19 pandemic has also accelerated the take up of plant based meat products. In the 9 weeks to May 2nd 2020, sales of plant based meat products increased by 264% according to research by Bloomberg. This coincided with the shuttering of several meat processing plants in the United States (where Cargill, JBS, Tyson Foods and National Beef control over 66% of the total market). 
Research by CB Insights hypothesised a vastly more efficient supply chain for plant based meat alternatives relative to that employed by current mass farming methods. 
Innovation is occurring across the alternative meat industry with companies such as Memphis Meat, Mosameat and New Age Meats all exploring ways of culturing meat in a lab. Think of it like growing a burger or a sausage. 
Israeli company, Redefine meat is using 3D printers to produce a soy and pea protein based "steak". Another 3D printed meat pioneer is Spanish company Novameat.
Elsewhere in the alternative meats universe, companies such as Calysta are using technology to produce alternative protein based animal feeds. In Calysta's case, they are using fermentation technology with methane (natural gas) as a feedstock to produce their FeedKind® product. Crunchbase reports that Calysta has raised a total of $129m to date from groups such as Cargill, BP Ventures (the VC arm of the oil major) and Temasek (Singapore's sovereign wealth fund). 
In Japan, there are a couple of companies taking a more DIY approach to meat cultivation. Integriculture (who recently raised $10.2m in a funding round) have partnered with Shojinmeat project to provide Japanese highschool students with microwave size heated boxes where they can grow meat at home. You can read more about that initiative in this article from QZ. 
Israeli company, Hargol Foodtech (who recently raised $3m) is producing a line of grasshopper derived protein powders. Whilst that might not be everyone's idea of a tasty protein shake, they are not alone with US companies All Things Bugs and Bittyfoods both exploring insect based food products.
One thing seems certain, with the amount of money and interest in the sector, the alternative meat / protein industry looks set to grow. 
Stellium Services is a UK based specialist corporate development and Investor relations consulting business working with growth companies. For more information about out services and how we can help your business please review the information on our website or contact us at [email protected].