2022 is proving to be a very interesting and (arguably) troubling year for energy, food security and water. Geopolitical events, most noticeably the Russia – Ukraine conflict has accelerated a problem that has been brewing for a number of years. Short term political decisions (such as Angela Merkle's' decision to scrap Germany's nuclear program after the earthquake and subsequent tsunami at Fukushima in 2011) have exacerbated an energy supply issue that is set to wreak havoc this winter for businesses and consumers alike.
After what is arguably one of the warmest and driest summers on record here in the United Kingdom, climate change and its causes and potential solutions are now front and centre in the minds of politicians. The solutions to climate change, namely increased adoption of low carbon energy sources, encouraging consumers to switch from internal combustion engine driven vehicles to electric vehicles along with changes in our diet (encouraging more vegetables and less "greenhouse gas emitting" meat) are conspiring to make the future look very different from even the recent past.
The transition from a predominantly fossil fuel derived energy mix to one comprised mainly of renewable or low carbon emitting energy sources is perhaps one of the largest challenges facing us at the moment. Governments around the world have signed up to carbon reduction targets that are in many cases going to present a huge challenge to hit. This was illustrated recently in the UK where the Charity Friends of the Earth, together with 2 other organisations sued the UK Government over the legality of their change strategy. The Judges found that the Governments strategy was illegal in that it did not set out "how" is was going to meet its climate reduction goals. In effect, they didn't show their working.
The NZS did not go below national and sector levels to look at the contributions to emissions reductions made by individual policies (or by interacting policies) where assessed as being quantifiable,

Justice Holgate, July 2022
There is a much wider issue in respect of "how" climate change goals are going to be met when you consider the material demands of the energy transition along with widespread adoption of electric vehicles. It's something that politicians (and many members of the wider public) seem blissfully unaware of and it has wide ranging consequences for the achievability of both carbon reduction goals (and by extension our ability to address the issues associated with climate change) as well as the prices of many things we take for granted at the current time.
The adoption of clean energy requires huge amounts of metals and minerals in volumes that we simply don't have the capacity to produce today. The International Energy Agency has done some fantastic work looking at the critical materials supply chain and we strongly encourage you to head over to their website and take a look. A good place to start would be the May 2021 Flagship report on the Role of Critical Minerals in Clean Energy Transition.
The chart on the right which is taken from that report shows the IEA's estimate of total mineral demand under various scenarios between 2020 and 2040. Even under the Stated Policies Scenario (which represents what Governments have pledged to do thus far) mineral demand is set to double by 2040. The Sustainable Development Scenario (which is what would have to happen to meet the Paris Agreement climate goals) sees the mineral demand increasing by 4x to 2040. Huge numbers which ignore the practicalities of mining and processing such volumes.
The largest contributors on the chart to the increased demand represent metals and minerals required for EV's and battery storage (the green bar) and also the upgrading of electricity networks (the yellow bar).
When looking at individual metals and minerals, the problem looks even more acute.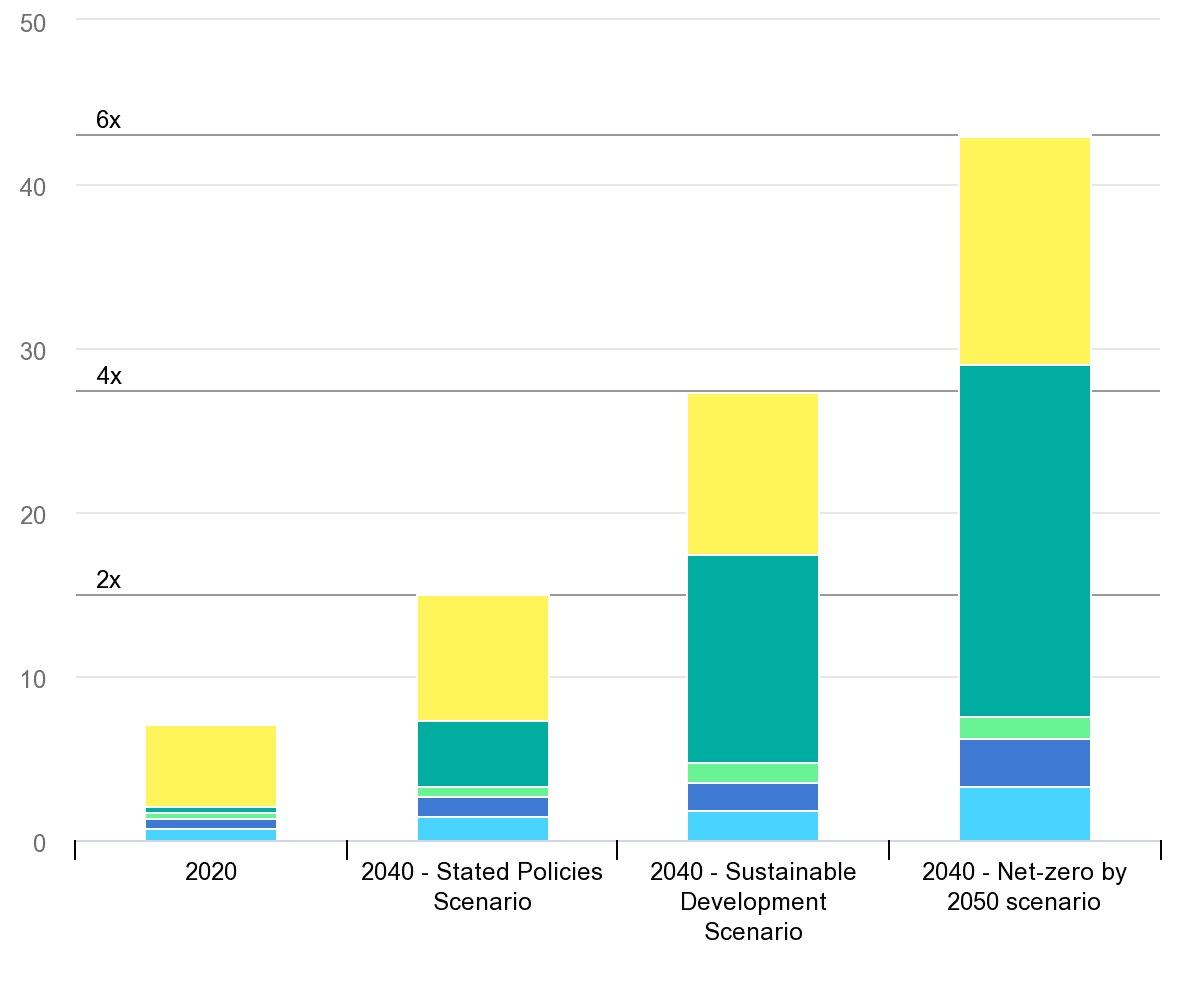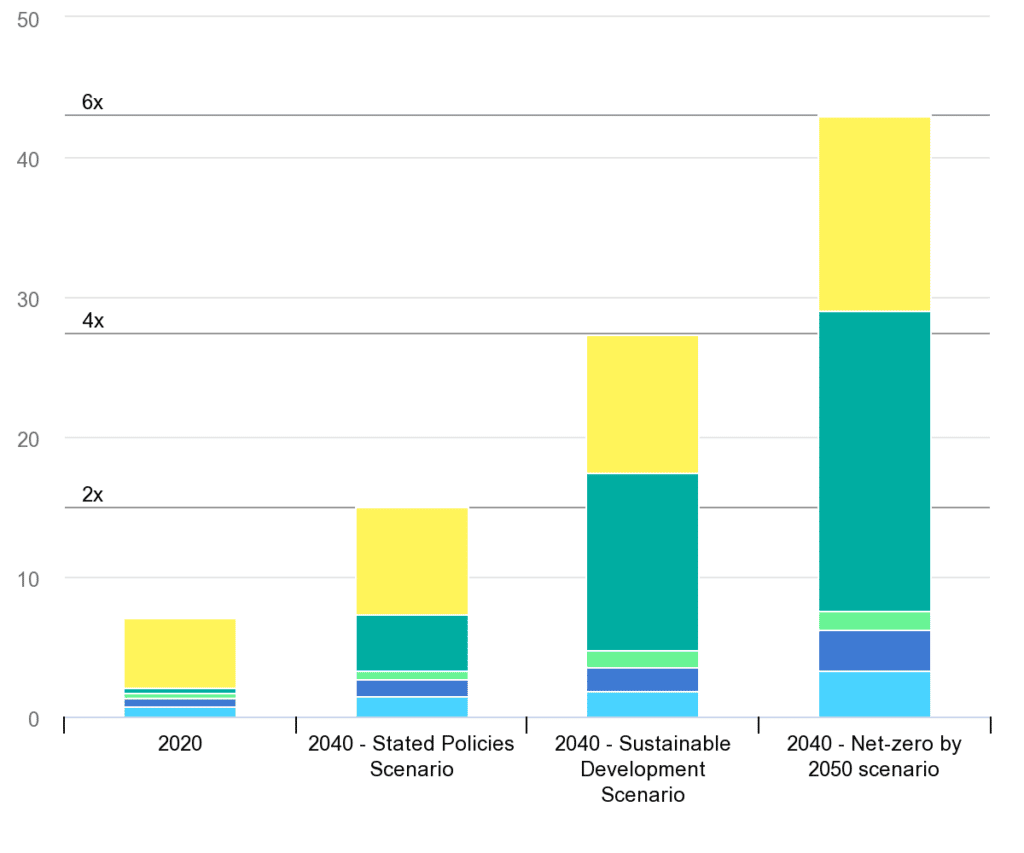 Lithium, graphite, nickel and cobalt are all anticipated to experience huge growth in demand out to 2040. Supply chain problems are abundant at almost every level. Taking cobalt as an example, 70% of the metal is mined in the Democratic Republic of Congo; a country where ESG risks are plentiful and which remains off limits to a large part of the global asset management industry. Funding for new operations is therefore problematic and left to a handful of traders and companies funded by state owned entities (China).

Countries are now scrambling to secure their own supply chains for these metals and minerals which is likely (in our view) to present a huge investment opportunity in coming years for those who can deploy capital into companies with quality assets and the management teams to bring them into production or execute on their strategies effectively.

The list of materials required is varied and covers a variety of technologies with several key elements overlapping in use cases.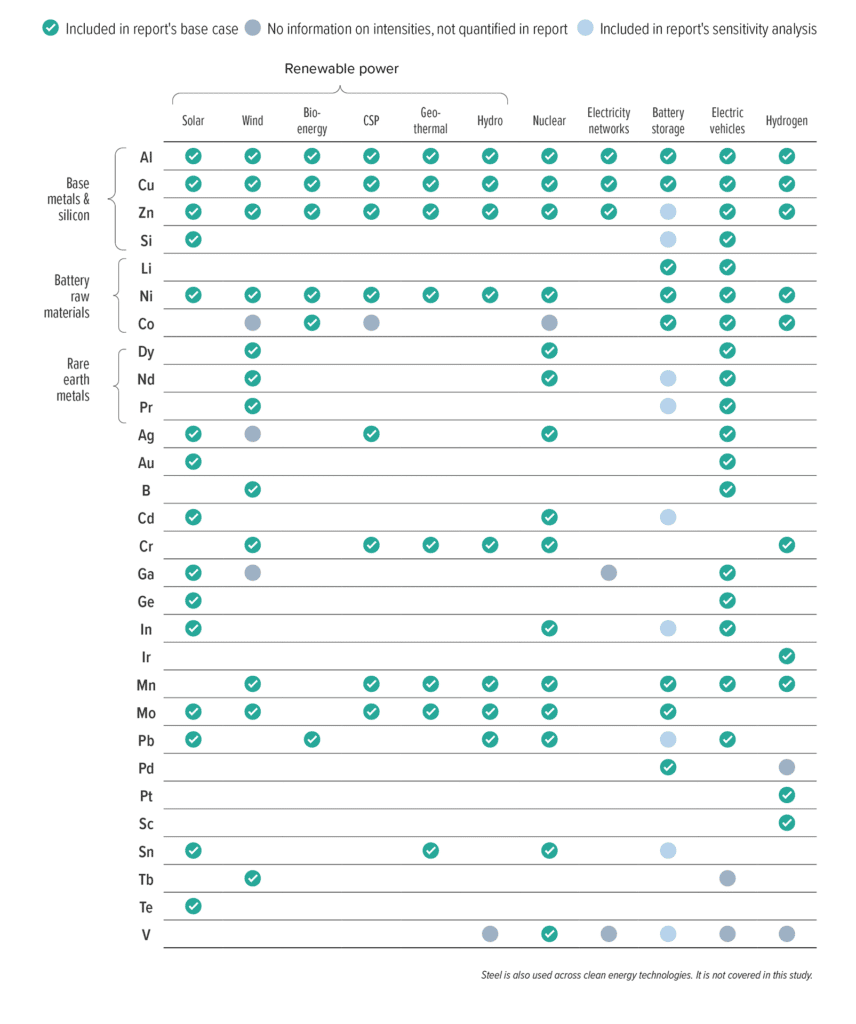 When you consider the forecast percentage increases that are required to meet the climate change goals on a per commodity basis the requirement to fund new mining and processing operations should be abundantly clear.

The West needs to act fast to catch up here as China is currently the main processing hub for many of the metals and materials that will be required for energy transition. This is particularly prominent when you look at lithium and the lanthanides (REE's).

In order for the US and Europe to catch up here it is likely that they will require changes to the regulatory regime surrounding mine approvals and permitting to make it easier for new projects to come online.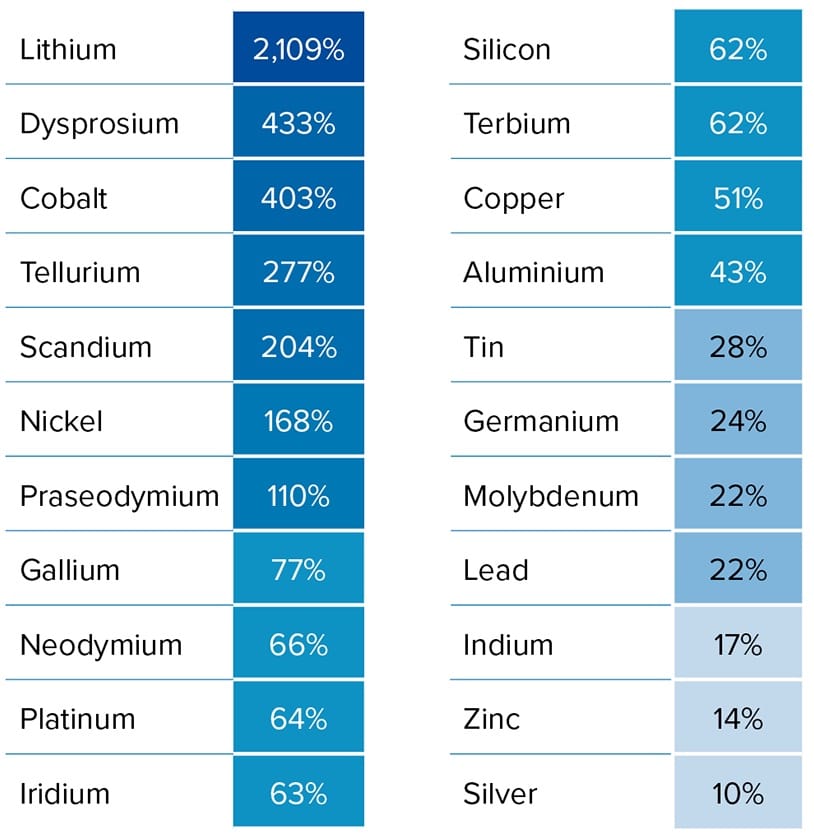 This is already happening to a degree with the Financial Times reporting recently that the European Commission is looking at changing the regulatory regime for new mine approvals to enable important projects to come on-stream sooner. You can read that article here.

At Stellium, we have a keen interest in working with companies who's businesses are looking to address the critical metals supply chain issues outlined above. Public or private; there are investor relations and funding solutions to suite all shapes and sizes of business.

To find out more about critical materials readers, may wish to take a look at the following organisations:

International Energy Agency
British Geological Survey
US Geological Survey
Eurometaux (Association of non ferrous metals producers)
UK Critical Minerals Association